Our Recruiters
Klaus Hackmann, Managing Director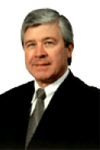 After having worked as a top-level manager in South Africa and across Europe for more than 20 years, Klaus Hackmann set up his own management and personnel consultancy, which he has been consistently expanding in the last years.
From 1962 to 1977 he worked as an independent entrepreneur in South Africa, where he successfully represented well-known German companies dealing with process and control devices, metering instruments and production-monitoring equipment. Among other achievements, Klaus introduced the concept of flexible worktime to Africa.
As MD as well as Sales and Distribution Director of renowned international industrial and chemical groups he was responsible for the marketing of well-known product-lines all over Europe. In addition he worked as an independent consultant on behalf of companies such as DuPont de Nemours and as a cross-border trade partner for other multinationals.
Since 1999 Klaus Hackmann has been the Managing Director of the Hamburg-based MRINetwork™ personnel consultancy, recruiting executives in the chemical and environmental technology sectors on behalf of leading national and international corporations.
In 2002 he was appointed Regional Representative and spokesman for all international partners affiliated with the MRINetwork.
In Johannesburg, South Africa, he was both a board member of the German-South African Chamber of Commerce and Industry and of EXAS (Executive Association of South Africa) from 1972 to 1977.